WE MAKE VIRTUAL GRADUATION MADE SIMPLE
WHAT DOES AN ONLINE GRADUATION LOOK LIKE
It's totally up to you, but here are some of our ideas for how it could look:
Your graduates receive a password-protected link to share with family and friends in advance of the ceremony
When attendees log-on with the provided password, they will see a video or slideshow of your choosing, perhaps campus photos, or senior year highlights
Your Principal will welcome attendees live on-screen, give remarks, and introduce the graduate speakers and/or keynote address
The video feed transitions to a camera of the keynote or graduate speaker (Named Speaker, Valedictorian, Student Body President, etc) or to a pre-recorded speech.
Your Principal, Department Chair or teachers will come back on screen to introduce each graduate by the name
As each graduate's name is read, their name and receives a diploma.    This can be prerecorded at the school over a number of days or done virtually pictures or videos sent in by the students.
Celebratory videos or photos can also be displayed for each graduate
A video or title card can introduce the beginning of each department, concentration, or major
The ceremony can end with a "recessional" slideshow of graduates or another video
A recording of the Livestream can be made available for download for your graduates and their families to keep as a memento
Planning for a Virtual Graduation Ceremony
What happens when a student graduates in a virtual learning world? Due to the international COVID-19 pandemic, many schools and districts are moving entirely to online education and navigating all the challenges that come with that shift. Appropriately recognizing students' academic milestones is just one of these difficult situations. Still, with a little creativity, it can be an excellent opportunity to have fun and build the school community. Instead of canceling graduation ceremonies altogether due to public health concerns, it may be time to think about another possibility—one that many online schools and universities have already been doing for years. Offer virtual graduations! We've ready to help and pull this off.  Contact us today to set up a planning session, help ensure that this significant milestone in your students' academic careers is appropriately recognized.
Prerecorded Video
Prerecorded Video For a 100-percent flexible commencement option, consider uploading a prerecorded video that allows graduates to view the celebration at their convenience. This type of effort would still feature administrators announcing all graduates by name. Because this option is entirely editable, it does allow educators the opportunity to collect student information, such as a quote, that could be displayed on a slide when a student's name is called.
Livestreamed On-Site Ceremony
Livestreamed On-Site Ceremony Livestream a physical campus commencement ceremony with key leaders on-site or even from home, but have all graduates and families remain at home. If it's possible for school leaders to be on-site and still practice safe social distancing, they can still take the stage or position themselves in front of important school landmarks for a friendly backdrop.
Graduation Day Is not ruined.
Virtual live-streamed graduation is the perfect way to have everyone safely from their homes.  Working together, we can combine recorded and live moments(speeches, songs, videos) to deliver to your students and families the best virtual experience possible at the same time streaming live to their home.
Caps and Gowns Ceremony
Just because the ceremony is happening virtually doesn't mean that students shouldn't feel the right of passage associated with moving their tassel from right to left upon receiving their diploma. Continue to offer opportunities for students to order their caps and gowns.  We have the options:   We can prerecord the commencement ceremony practice social distancing or students send in videos walking.  However you decide to accomplish this, we can do it.
Step 1: Pre-recorded broadcast
Like most late-night talk shows, you can record your graduation long before it airs but still makes it appear live. First, break your commencement down into its parts:
Processional/National Anthem
Head of School/Principal/Superintendent Welcome
Student Speaker Introduction
Student Speaker Address
Guest Speaker Introduction
Guest Speaker Address
Presentation of Candidates
Conferring of Degrees
Recessional
You can ask participants to pre-record all these components into separate video files and slides and send them to you in advance.  You want to create a shared live experience for your community, especially to prevent first-time viewers from fast-forwarding your specially created program. Many families will want to cast the graduation ceremony onto their big screens at home.
Step 2: Get recordings from your presenters
A few weeks to a few days ahead of your commencement, ask your presenter to record their Performance, address, etc. Any school staff still on campus can use their existing school facilities to really simulate being there. All presenters and speakers should choose their outfit and location carefully. However, the most important aspect is the audio. We have it covered and here to help you through the challenges.
Step 3: Commencement Ceremony
We have a few options now on how this can be done while obeying social distancing.   Reach out to us to discuss this.
Step 4: Premiere day /Graduation Day / Send the video for replay.
After the ceremony is over and diplomas are being mailed, every student will get a download link to view their graduation forever.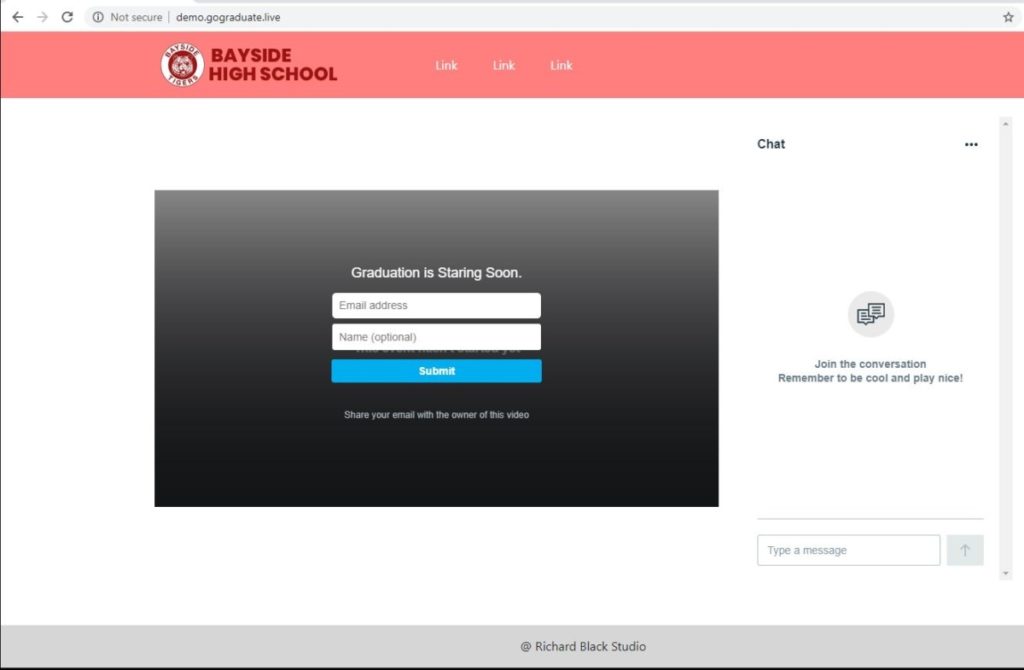 We can stream to many platforms:

Our streaming platform:
How can we help?
During these uncertain times, We are here to help deliver a virtual graduation experience based on your plan.  Leveraging our extensive experience working with schools throughout New York and our streaming expertise, we will produce a high-quality event to celebrate the graduate's big day.
Contact us today:   info@richardblackstudio.com          www.gograduate.live
Contact Us
Stream Options